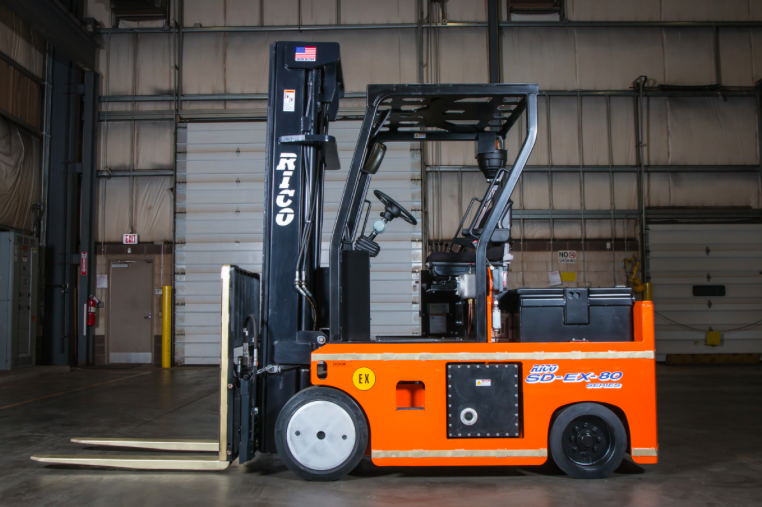 Explosion Proof Trucks
Hyster-Yale Group has launched certified Explosion Proof (EX) trucks that convert 6,000 lbs. capacity Hyster or Yale electric counterbalance lift trucks through RICO Manufacturing Inc. (RICO). With over 70% of the parts and truck systems remaining intact, authorized Hyster and Yale dealers will be fully equipped to service and support the RICO-branded EX trucks.
Industries such as aerospace, automotive, chemical, petroleum, construction, food, pharmaceuticals and plastics often have designated operating areas where lift trucks may be exposed to explosive gases and combustible dust particles.  It is critical for certified EX trucks to be utilized in these areas.
Based in Medina, Ohio, RICO has over 30 years of experience and is the leader in manufacturing certified EX solutions for the North American market. "The development of this program expands our existing partnership with RICO for the exclusive distribution of the RICO Pegasus Elite line of large-capacity, cushion-tire electric and internal-combustion counterbalance products," said Martin Boyd, vice president of product planning and solutions for HYG.
"Our industry-proven Hyster and Yale lift truck platforms as the foundation for a high-quality EX conversion by RICO helps meet the market's need for a high-quality, certified EX truck," Boyd continued.
EX-rated lift trucks have specific protection measures which allow them to operate in hazardous locations with potentially explosive or flammable vapors, liquids, dusts or fibers. Some examples of these protection measures include rigid metal conduit, mineral-insulated cabling, intrinsically safe electrical circuits, static conductive tires, protection against mechanical sparks, and explosion-proof enclosures for electrical components.
The RICO certified EX conversions have been developed for operations in Class 1 – Division 1 & 2 Group D (gas) and Class 2 – Division 1 & 2 Group G (dust) environments. In addition to the initial EX conversion, RICO also offers a comprehensive recertification program to ensure that equipment continues to meet stringent EX compliance.