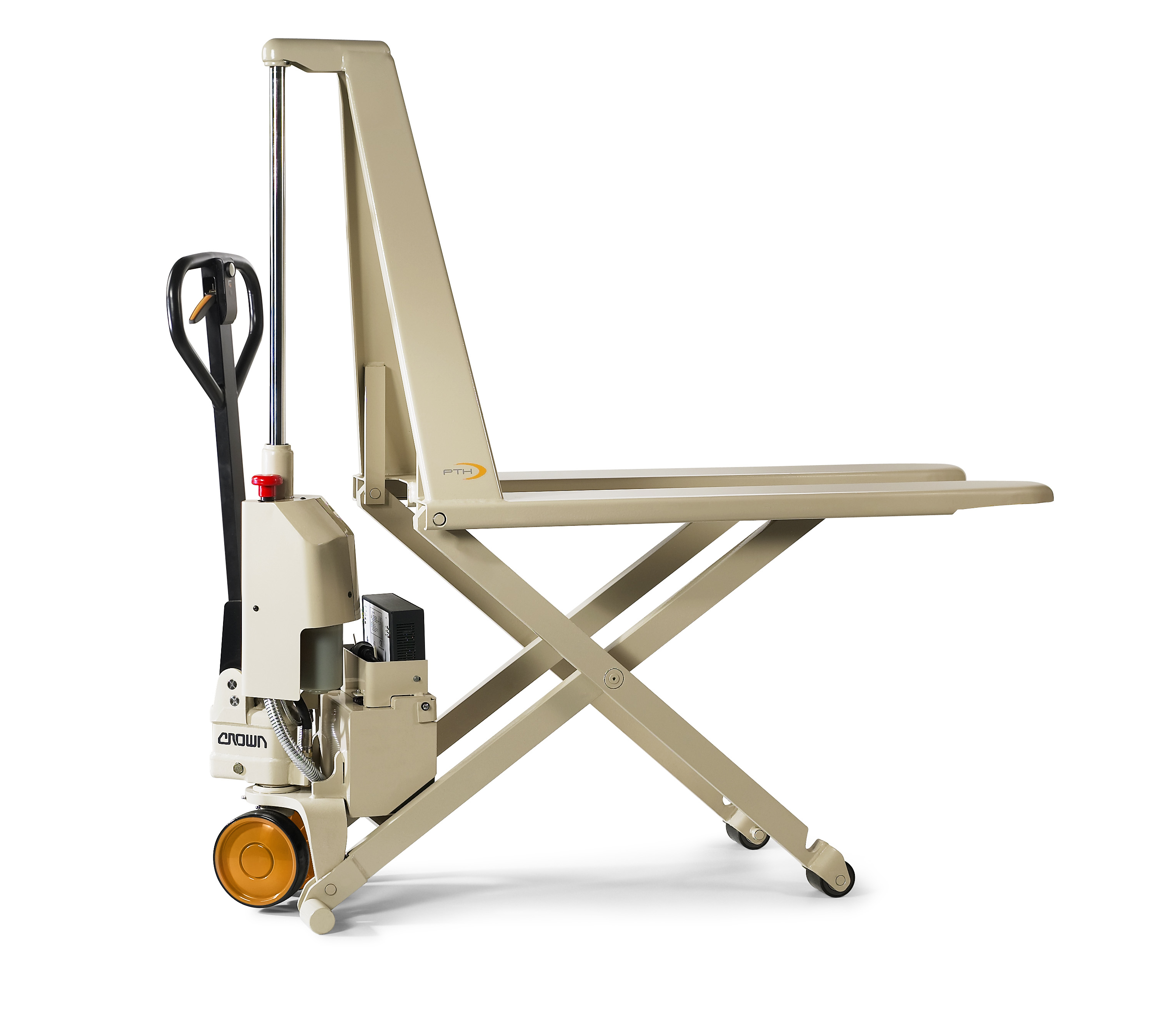 Crown PTH 50PS Series Powered Scissor Lift Hand Pallet Truck
Crown Equipment Corporation has launched the Crown PTH 50PS Series powered scissor lift hand pallet truck designed to help improve comfort and efficiency in work positioning by helping avoid unnecessary bending and lifting that can cause strain and stress on the body.
Designed for use with open-bottom pallets, skids and totes, the Crown PTH 50PS is suitable for a variety of workplace environments, including printing and manufacturing. It is ideal for applications requiring frequently varied working heights because unlike a fixed lifting table typically used in these types of applications, it can function as both a hand pallet truck and mobile work positioner that can raise, lower and transport material. The Crown PTH 50PS features an electrically-powered hydraulic system that can lift as much as 2,200 pounds at variable heights up to 31.5 inches.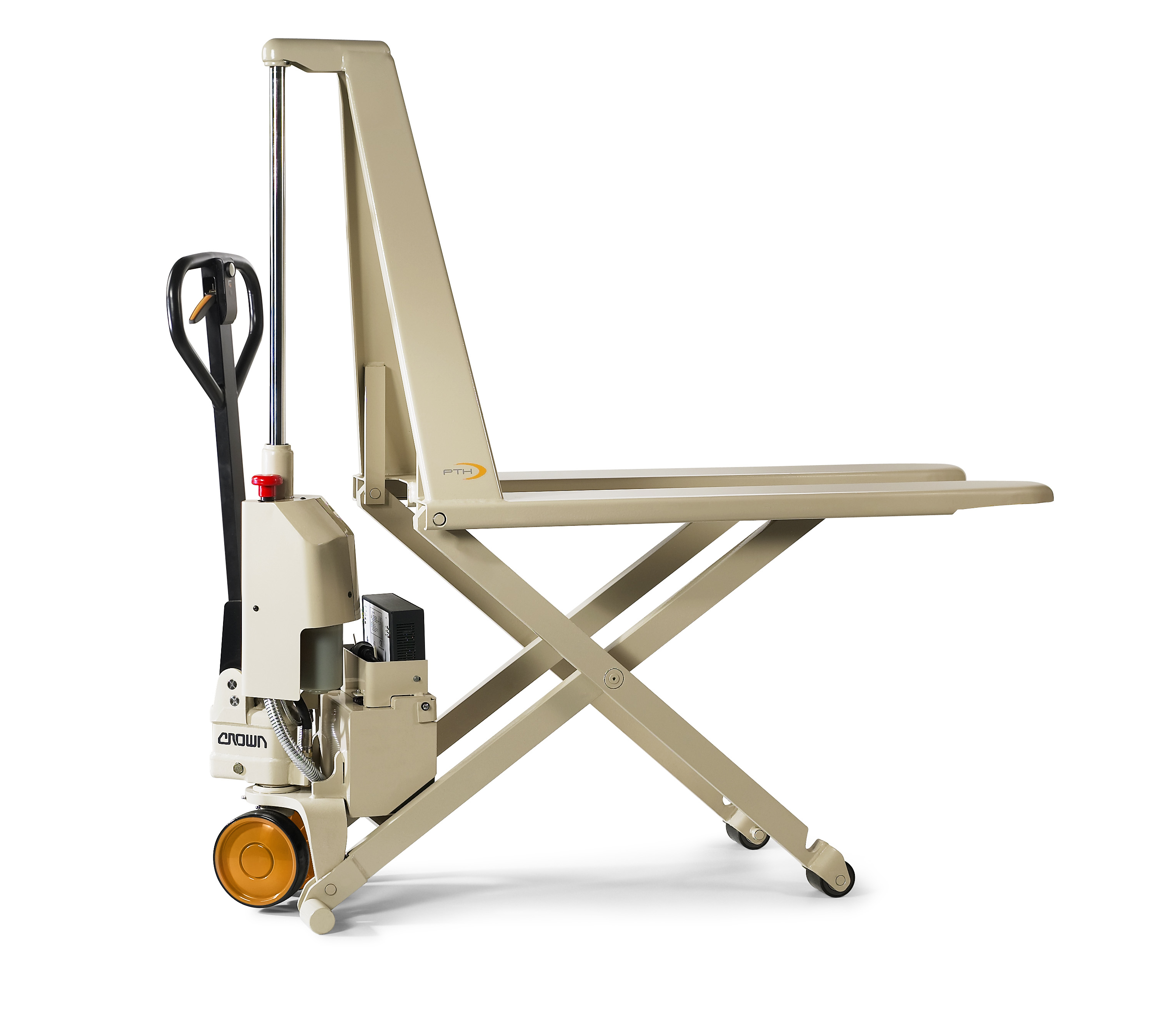 "Lifting heavy items, repetitive bending and working in awkward body postures can cause lost or restricted work time," said Steve Harshbarger, marketing product manager, Crown Equipment.
He continued: "The Crown PTH 50PS is the ideal work assist solution to help increase efficiency, offering easy handling and fast and quiet height adjustment at the press of a button so work can be placed at an ideal height and users experience less fatigue. Unlike a typical lifting table or, worse yet, makeshift work positioning solutions, the scissor lift pallet truck is equally suited to safely transport loads, position a worktable or even feed conveyors or printing and punch presses."
The pallet truck's heavy-gauge steel forks and scissor legs are stronger and more durable than other designs. Its steer and load wheels are engineered with high-quality compounds and bearings that lower rolling resistance for long-lasting performance and provide smooth, quiet operation. The 7-inch articulated steer wheels are designed to maintain optimal contact with the floor, which helps users easily maneuver across dock plates, in and out of trailers and over uneven floors. A 200-degree steering angle enables better maneuverability in tight areas.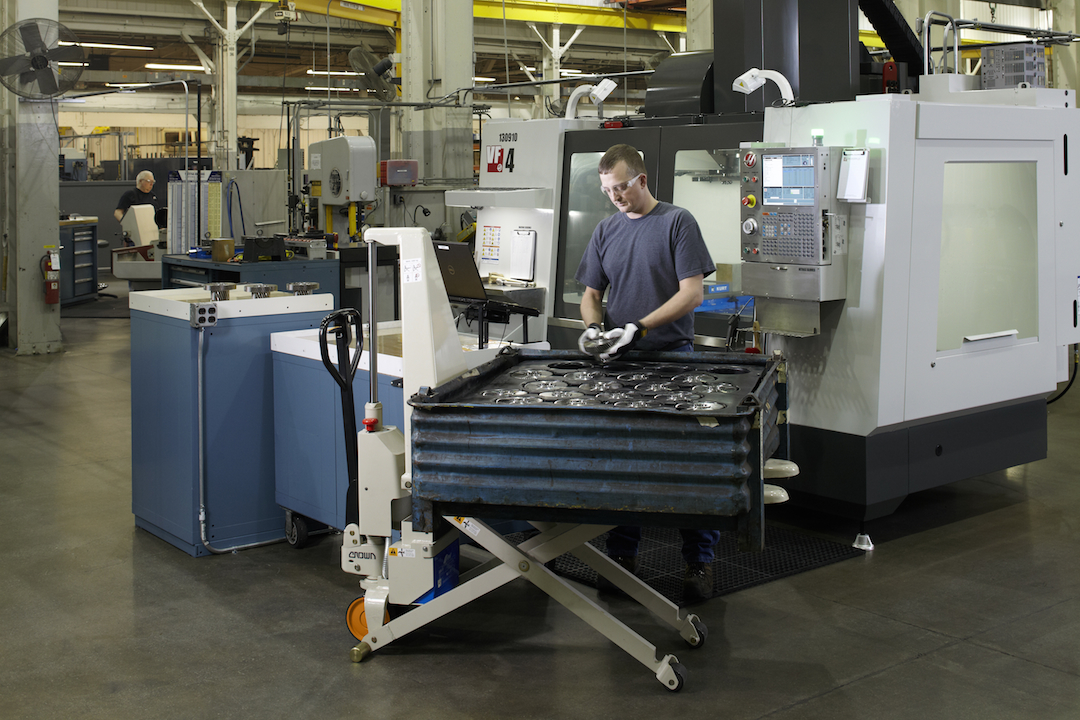 The Crown PTH 50PS offers 110 volt/60 hertz capability, meaning it can be charged basically anywhere in the facility where there is a conventional 110 volt wall outlet. It also has an onboard, 12 volt/10 amps maintenance-free battery and charger. A discharge indicator with lift cut-out prevents full discharge of the battery. All manual lifting and lowering functions of the pallet truck are retained. The Crown PTH 50PS is available for purchase on crown.com.