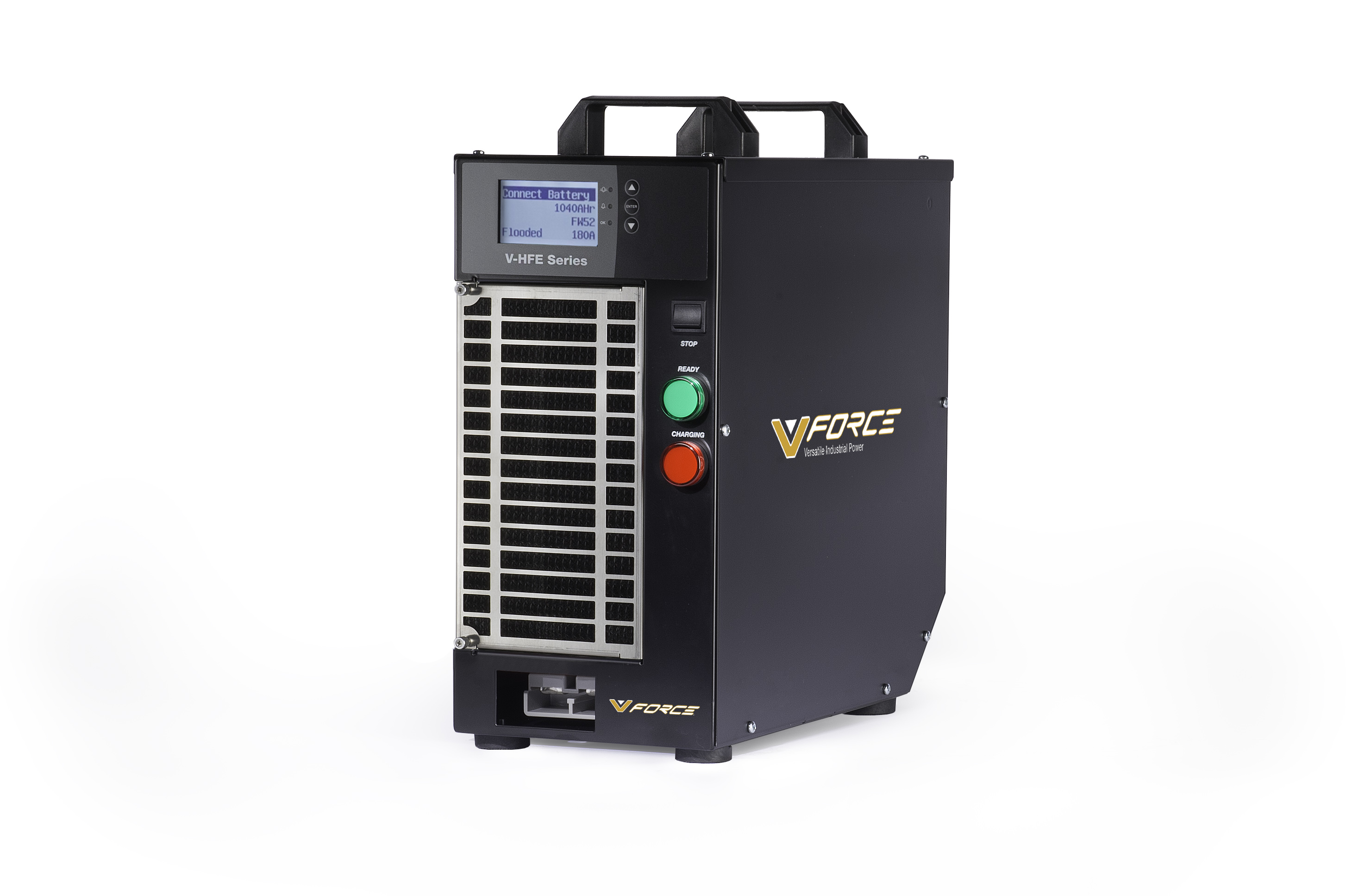 Addition to V-Force Series Chargers
Crown Equipment Corporation has introduced a new addition to its line of modular V-Force industrial battery chargers. With a compact design that uses less operational space, the new V-Force High-Frequency Economy (V-HFE) Series is designed to maximize forklift battery life and increase energy efficiency, helping managers to reduce overall energy costs associated with forklift battery charging.
The V-HFE charger, which is compliant with California Energy Commission (CEC) regulations, is designed to provide lighter-duty applications and smaller operations with a more cost-effective, high frequency charging solution to suit almost any flooded battery. It uses a constant current—constant voltage – constant current charge profile to reduce the amount of battery-damaging heat generated during charging. Charge termination is determined by the change in voltage over time, preventing over- and undercharging, and maximizing battery and charger efficiency.
"The V-HFE Series charger offers up to a 38 percent power savings when compared with traditional Ferro and Silicon Controlled Rectifier (SCR) chargers," said Lynda Goodwin, parts marketing project manager, Crown Equipment.
"The charger's ability to achieve 93% efficiency rates over an entire charge cycle allow managers to lower their costs while being environmentally sound. For instance, when charging a 36V 1050AH battery with a V-HFE charger versus a typical Ferro or SCR charger, managers can potentially realize a savings of $1.81 per charging cycle. This could result in a savings of $2,715 over 1,500 charge cycles; for a fleet of 20 electric forklifts this could be a savings of more than $9,000 in one year."
The V-HFE charger's front panel screen allows users to select the charging profile (conventional or cold storage). Lights on the screen indicate when the battery is charging, if a fault has occurred and when charging is complete. The charger occupies 67% less space than typical charger cabinets, allowing it to be installed virtually anywhere within a warehouse, including mounted on a wall or rack. The series features a range of voltage specific models that will charge between 300 to 1,200 amp hour batteries via conventional charging method.
The V-HFE charger joins Crown's V-Force High Frequency Modular (V-HFM) Series chargers as part of the company's high frequency charger line. The V-HFM, which is multi-voltage and multi-amp hour, delivers flexible solutions to suit almost any battery-charging requirement, including conventional, opportunity and fast charging.
Crown's development of energy efficient battery charging systems is part of a broader corporate ecologic program focused on smart business and environmental sustainability.