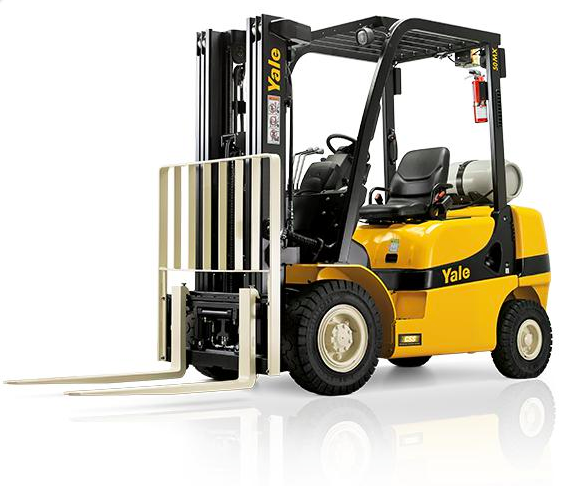 New Yale GP040-060MX Lift Truck
The new Yale GP040-060MX offers versatility, durability and efficiency to thrive in a range of applications and industries. With over a trillion possible configurations, the Yale MX is a customizable, best-fit solution that provides the ultimate in productivity, operator comfort, dependability, simple service and low total cost of operation.
"As corporate initiatives look to squeeze greater efficiency from increasingly lean supply chain operations, they require a powerful, cost-effective tool tailored to their application to hit critical performance benchmarks," said Chris Murtha, brand manager, Yale Materials Handling Corporation. "The extensive options of the MX enable a solution with everything customers want with nothing they don't, driving high levels of productivity while controlling acquisition and ownership costs."
The truck's PSI engine, available in LPG or dual fuel, is specifically designed for industrial applications, providing maximum performance and reliability, with extended service intervals and advanced diagnostics to keep service time to a minimum.
Yale Flex Performance Technology enables operators to tailor engine performance based on real-time demands, with selectable modes to either boost productivity during operational peaks or maximize fuel economy during lighter duty cycles.
The truck features Yale's Hi-Vis 2 mast and bar-on-edge overhead guard design to enhance operator visibility for precise load placement and retrieval. Generous use of sealed connectors and hydraulic fittings reduce the chance of leaks, while canted load rollers provide mast stability and eliminate the need for periodic shimming. In addition, the optional side-shifting fork positioner enables faster fork width adjustment, and ergonomic hand and foot controls further increase operator comfort and maneuverability while reducing fatigue.