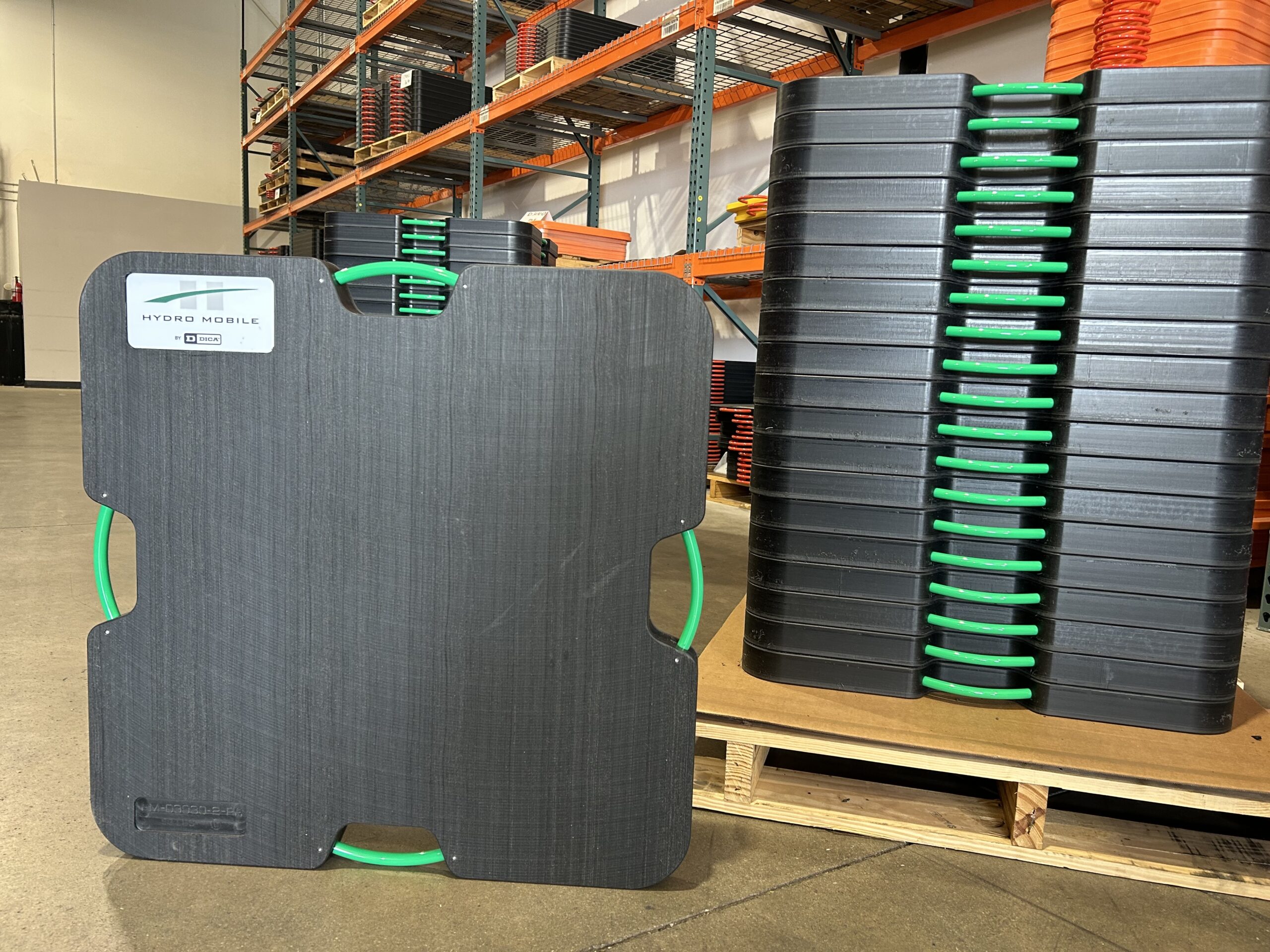 SafetyTech Support Pads
DICA and Hydro Mobile, a manufacturer of mast climbing work platforms, have collaborated to design and manufacture specialty SafetyTech Support Pads for use with all of Hydro Mobile M, P, F, and S-Series units.
"Hydro Mobile started working with DICA in 2017 to develop a pad that would provide effective support for our M2 series. Earlier this year, we decided to partner with DICA again to modify the SafetyTech Outrigger Pad to expand the versatility of the pad to now work with all four of our product lines," said Rob Faro, dealer network senior manager for Hydro Mobile. 
Mast climbing work platforms are used in many industries, and proper support is required under OSHA 1926.451 (c) (2).
"Contractors frequently use wooden support pads, but they crack, splinter and often fall apart, so we wanted to design a support pad that wouldn't be affected by weather," said Faro. 
"When Hydro Mobile came to us wanting a single pad design made from our patented thermoplastic material that was lightweight, durable, and would work with all four series of units, we knew we had an engineering challenge. We worked with Hydro Mobile's Engineers to clearly define their needs and ground bearing pressure criteria to ensure the support pad could work in multiple configurations based on the equipment being used," said Kris Koberg, CEO of DICA.
The SafetyTech Support Pad is specifically designed for use with all Hydro Mobile equipment. Built using DICA's proprietary engineered thermoplastic material it provides the strength, toughness, and rigidity needed to support and stabilize this equipment in most ground conditions. 
Each pad weighs only 58 lbs. The pad features four recessed Hi-Viz Green TuffGrip Handles, which eliminate protrusions beyond the pad perimeter and allow the pads to be easily stored. Handle access on all four sides of the pad keeps operators from reaching across the pad to maneuver it.