Woven Wire Products Association Unveils New Logo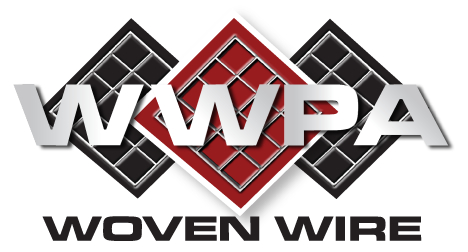 The Woven Wire Products Association (WWPA), a group of competing U.S.-based manufacturers of wire mesh safeguarding and other related products, has completed its image makeover with the launch of a new logo.
Further to a recent overhaul of the website—wovenwire.org—WWPA has revealed an eye-catching new logo that captures the products provided by its 1,000+ member companies and, in synergy with the website URL, highlights woven wire as the group's core mesh solution.
Eddie Murphy, vice president of the board at WWPA and president of member company SpaceGuard Products, said: "Key representatives from all our members were active in the selection and design process. We have discussed this for close to a year and felt the time was right to make a change. It was important to create a new-look logo that would serve its purpose online, not only on our association's site but also on members' pages, and in printed documentation. Our old logo served us well for 50 years but it was dated and very U.S. centric, while our new image aligns better with a forward-thinking membership that has evolved to address global audiences."
He added: "We went through quite a few alterations before settling on the final design but we were resolute in arriving at a concept that was bold, clean, and easy to read but, more importantly, centered on diamond mesh—the key component that makes our products as strong as they are. WWPA is synonymous with longevity and quality of product for which our members are individually renowned."
Murphy pointed out that the silver / gray gradient of the WWPA lettering resembles the steel with which equipment is manufactured; the coloration is again present in the mesh design. The three diamonds, meanwhile, represent the core uses of product—wire mesh partitions, wire mesh infill panels, and wire mesh window guards. Red and black were chosen for the boldness that helps the steel-colored WWPA lettering stand out, Murphy said.
Throughout the rebranding process, representatives were mindful of WWPA's core mission to promote the benefits of diamond woven wire mesh to the architectural and design community—specifiers of construction specialty and metal products are a primary target—aided by a simple step-by-step tool on the website that creates a written specification based on a customer's inputs. However, it is of increasing importance to target general and subcontractors who are part of the material handling, industrial safety, data communications, and other supply chains.
Murphy concluded: "Our materials are incorporated in the handrails at your favorite sports stadium; they provide security at your local school; they protect your business inventory from theft; they protect the servers you communicate with online. Our members' products offer a level of craftsmanship and aesthetics that are on display in just about every commercial building constructed with an added flexibility over chain link or other fencing products."
To learn more about the Woven Wire Products Association visit wovenwire.org.