NACB to Hold Aerial Lift Course in Florida

The North American Crane Bureau Inc. (NACB) is staging a two-day aerial work platform operator and inspection course on 12-13 April in Orlando, Florida.
Aerial work platforms are found throughout industry, in factories, out on construction sites, practically anywhere there is a need for someone to reach an additional height. There are a wide variety of systems in use; some are better suited for environments than others.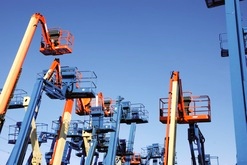 When they are used properly, they are very safe. However, used improperly, they become a potential danger not only to those operating them but to the public in near proximity. This training program will cover the various types of equipment available, safe practices, and inspection.
Contact NACB for details.