Delta to Demo Wireless Battery Charging at MODEX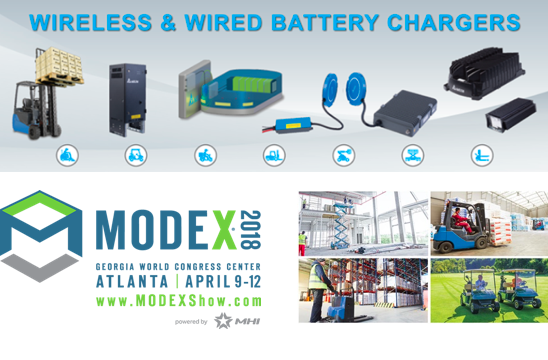 Delta Electronics (Americas) Ltd. will demo its wireless battery charging for industrial electric vehicles at next month's MODEX show (Booth B4487), which takes place 9-12 April in Atlanta. Delta personnel will outline how attendees can now charge batteries from 1kW to 60kW wirelessly with over 94% efficiency.
New charging stations are focused on the fast charging needs of lithium-ion powered AGV's, robots, and other intelligent vehicles that need to be in-service and not sitting on charging docks. Modular charging stations cover 24V to 80V and from 1.35kW to 30kW.
Delta will also showcase its new on-board chargers that are smaller than other units on the market, do not require fan cooling, and can deliver full power at much higher temperatures.
If fast charging time and high reliability in tough environments are important factors for a battery charging, Delta has the solution.