Raymond Supports Communities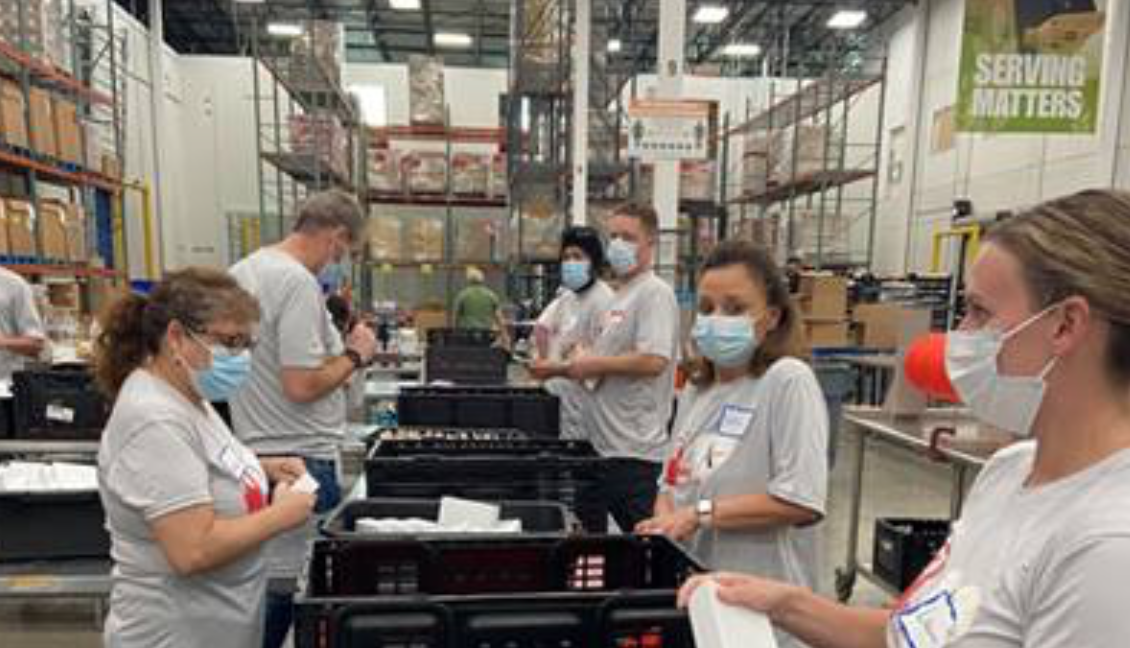 In 2021, The Raymond Corporation and its network of Solutions and Support Centers are continuing to support communities across the United States, further demonstrating that giving back is fundamental to the company's philosophy and a value instilled throughout the entire Raymond organization.
Through monetary contributions, forklift donations and volunteered time, Raymond and its network of Solutions and Support Centers across North America are supporting numerous nonprofits and educational organizations, spanning a variety of needs and charitable causes.
"Raymond's recipe for success includes adhering to fundamental company values — including respect for people and innovation — which fuel our company and our associates to go above and beyond for our communities," said Steve VanNostrand, executive vice president of human resources for The Raymond Corporation. "We are grateful for our close network — from our manufacturing facilities and parts distribution center to all our Solutions and Support Centers across North America — for their continual support, which allows us to help our communities flourish."
Raymond was able to extend its National Manufacturing Day event to local communities, inviting students from across the United States to attend the event remotely. The event helped to encourage attendees to build skills for a future in the innovative manufacturing industry through a virtual facility tour, technology showcases, associate testimonials and technician spotlights.
In addition, Raymond is proud to partner with local organizations that promote the greater community through a variety of charity events, arts programs, and educational programs, including the Greater Binghamton Chamber of Commerce Young Professionals Summit.
Here are some distinctive examples of ways Raymond's authorized Solutions and Support Centers gave to communities across North America in 2021: 
Charity Golf Tournament
Raymond West partnered with a number of vendors to sponsor a charity golf tournament, which raised over $25,000 to benefit food banks in the Seattle, Washington, area, including the Emergency Food Network and Thurston County Food Bank.
Holiday Turkey Donations
Brauer Material Handling Systems donated 1,000 turkeys to several food pantries and nonprofits in the Nashville, Tennessee, area, including the Goodlettsville Help Center, Nashville Rescue Mission, VFW Post 9851, Sumner County Food Bank, Praise Chapel, and Second Harvest Food Bank of Middle Tennessee. Brauer Material Handling Systems will also be donating 250 turkeys to the Knoxville area and 250 in the Chattanooga area.
Inter Parish Ministry Food Pantry
Raymond Storage Concepts Inc. supported the Inter Parish Ministry Food Pantry 2021 Hunger Challenge in Cincinnati with the donation of food, hygiene products and support.
Minnie's Food Bank 
Malin supports Minnie's Food Pantry in Plano, Texas, throughout the year with forklift service and Safety on the Move Training for their volunteers. Every Thanksgiving, Malin and its associates donate approximately 12,000 cans of corn for Minnie's Thanksgiving meal giveaway. This year is the ninth year Malin will support the organization.
Northern Illinois Food Bank
Associated team members in Addison, Illinois volunteered at the Northern Illinois Food Bank in September to help distribute food to those in need.
Truck Convoy for Special Olympics SC
Carolina Handling and its team of associates supported Truck Convoy for Special Olympics SC. The Truck Convoy is a national celebration of the trucking industry to raise awareness and funds for Special Olympics athletes and help change attitudes toward people with intellectual disabilities.
WOW – We Care Charity
Stoffel Equipment Company donated $1,000 to the WOW – We Care Charity Shooters cup. The funds raised support the communities where WOW Logistics does business by providing assistance to local organizations.
As total intralogistics solutions providers, Raymond Solutions and Support Centers offer a broad range of consulting, connected solutions, technologies, services, material handling equipment and more to support the ever-growing needs of their customers across North America.