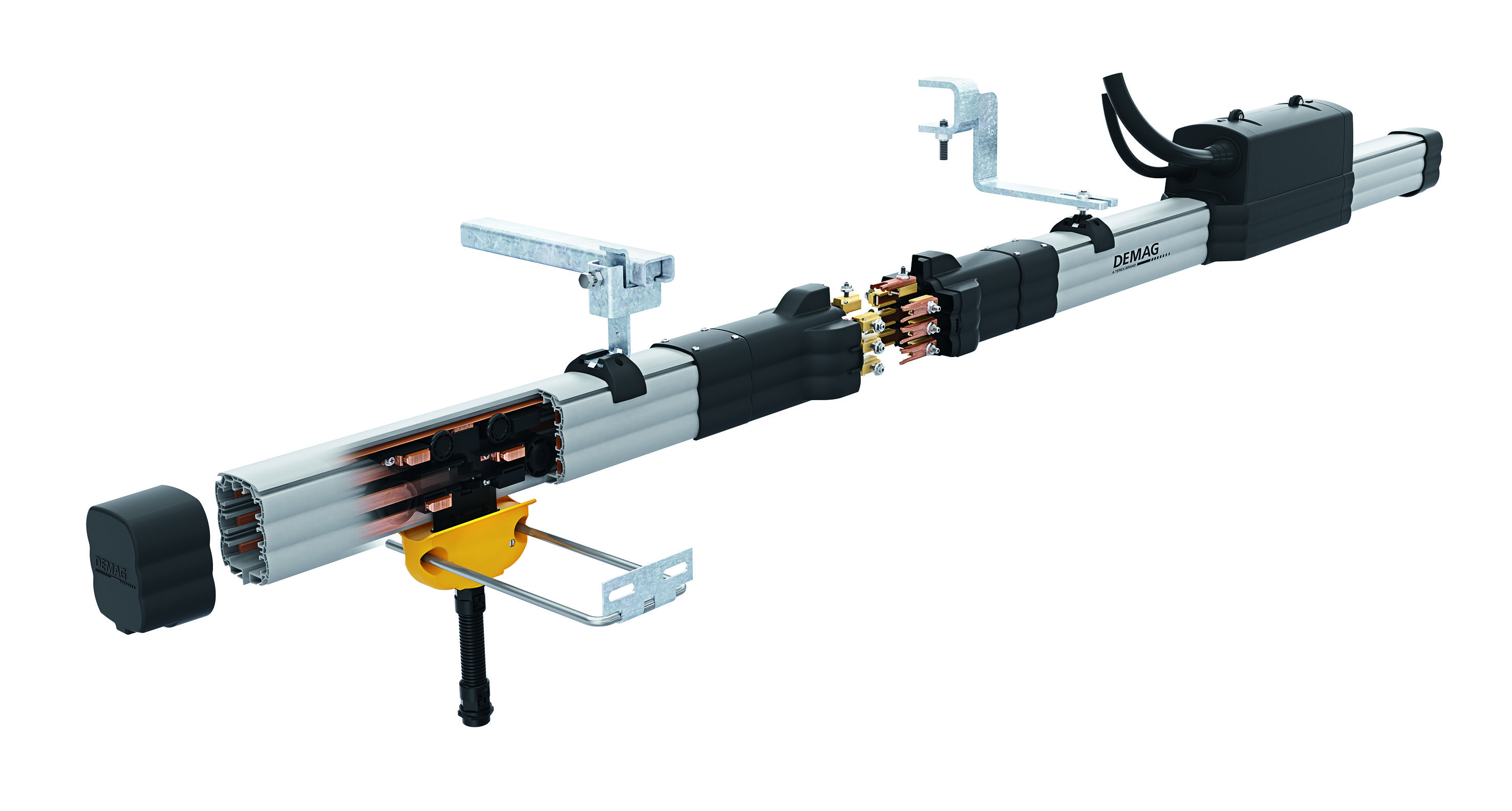 New Z-shaped Bracket for DCL-Pro Compact Conductor Line
Installation of the Demag DCL-Pro compact conductor line has been further simplified with the use of a new Z-shaped bracket.
Manufacturer Terex Material Handling has added a cleaning trolley to its DCL-Pro modular system. Operators and planning engineers now benefit from greater application flexibility and enhanced availability.
Until now, C-rail fittings and threaded pin suspensions have been available to install the DCL-Pro power supply line along the travel path of mobile machinery. The new Z-shaped suspension now offers additional freedom for planning the system.
In comparison to the C-rail, the new suspension can also be used for installation in narrow situations, where the steelwork is positioned direct next to the wall of the building. The new suspension can be attached both to the upper and lower flange of IPE-type I-beam girders as well as to the upper flange of INP girders. In combination with the threaded pin suspension, installation times are significantly reduced and horizontal and vertical alignment is easier.
Besides the installation method described above using brackets and threaded pin suspensions, the conductor line can also be attached direct to steelwork (welded steel brackets) with threaded pin suspensions.
The top of the DCL-Pro profile section has sliding suspensions, which both ensure that the rail system is securely held and also enables it to expand in length when temperatures change.
The new cleaning system can be used to remove deposits and dirt accumulations from copper rails and the profile section housing. This solution ensures smooth operation of the DCL-Pro conductor line and further improves the availability of equipment that it supplies. The dedicated cleaning trolley is introduced into the rail section after it is switched off and can then moved by hand. To do this, the rail system can be easily opened at any end powerfeed or point along the track.
The cleaning trolley is offered in two variants: to remove any deposits or oxidation from the contact surfaces of the internal copper conductors, the cleaning trolley can be fitted with special sliding contacts for cleaning.
Due to the manual travel motion, the contact surface is lightly scoured and any deposits on the copper rails are reliably removed. To clean the inside of the housing—particularly for applications in demanding environments—a trolley is used with a set of brushes, which gently loosen any dust, dirt and other deposits.
The DCL-Pro compact conductor line is used to supply power to mobile equipment and to transfer power and control signals. DCL-Pro features a highly rigid enclosure profile of honeycomb design, which can be used to accommodate up to seven conductors with a cross-section of up to 70 mm². This design enables currents of up to 200 A to be supplied in continuous operation. The current collector trolleys are optimised for rugged applications and rated for travel speeds of up to 200 m/min.