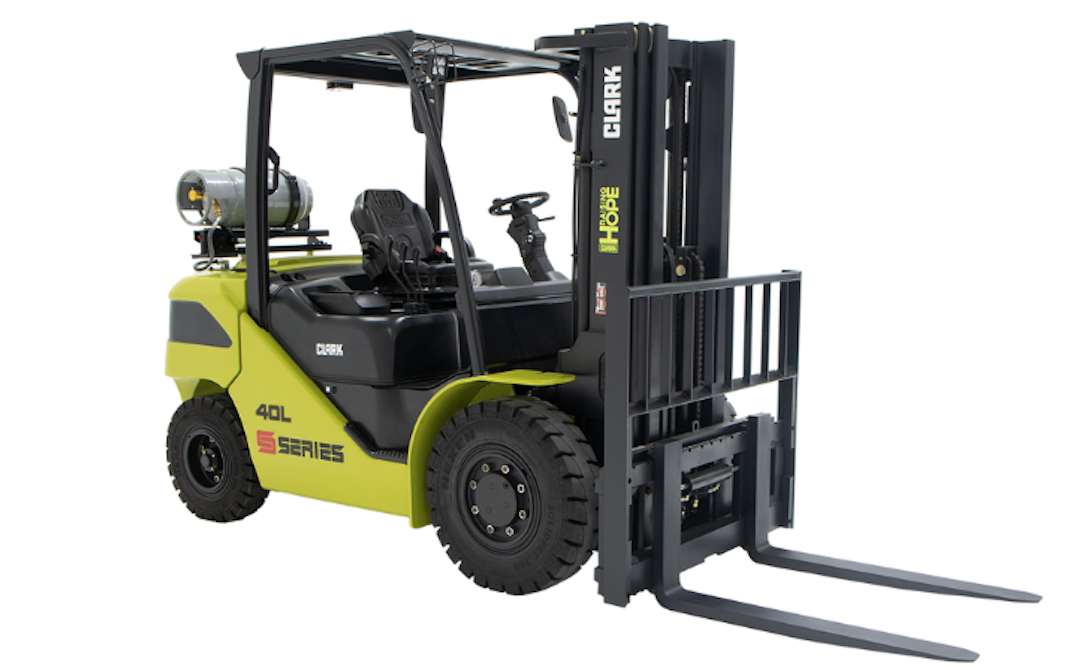 Clark S40-60 IC Pneumatic Forklift
Clark Material Handling Company has launched the S40-60 IC Pneumatic forklift truck.
Built in capacities of 8,000 to 12,000 pounds, with a true 12,000 pound capacity, this latest addition to the S-Series line boasts many of the same smart, strong, and safe features that customers have come to expect from the S-Series family, while also adding to the built to last promise of all Clark trucks.
Designed from the ground up to advance the current offering of the C40-55, key safety features on the new S40 include an optimal center of gravity for increased stability; a self-activating parking brake; and increased operator visibility through the mast. Additional safety features are available for this lift truck, including an integrated back-up camera, LED lights, an all-weather cab, and optional speed limit control.
Additionally, the S40 comes equipped with several smart features, including an interactive dash display with audible and visual warnings; an engine protection system designed to protect against overheating; and selectable performance modes on the LPG engine, which allow technicians to adjust the lift truck's operation to suit their application.
These features combine with a rugged, durable frame; a balanced LPG or diesel engine for reduced noise and vibration in the operator compartment; low-maintenance wet disc brakes; and all backed by the industry-leading Clark Protection Plan of 2 years or 4,000 hours carriage-to-counterweight warranty coverage, plus an additional 12 months or 2,000-hour powertrain protection.
"The introduction of the S40 to the market and to the Clark lineup builds on the Clark promise to create lift trucks that are safe, durable, and operator focused. The continued expansion of the S-Series lineup sends a clear message to our customers—we are committed to making products that are smart, strong, and safe," commented Brandon Bullard, director of sales and marketing at Clark.
Tags
Brandon Bullard
,
Clark forklift
,
Clark forklift truck
,
Clark forklift trucks
,
Clark forklifts
,
Clark forktruck
,
Clark forktrucks
,
Clark Material Handling
,
Clark Material Handling Company
,
Clark pneumatic forklift truck
,
Clark S-Series
,
Clark S40-60
,
Clark S40-60 IC Pneumatic forklift truck
,
Material handling
,
Materials handling
,
Pneumatic forklift truck
,
Pneumatic forklift trucks