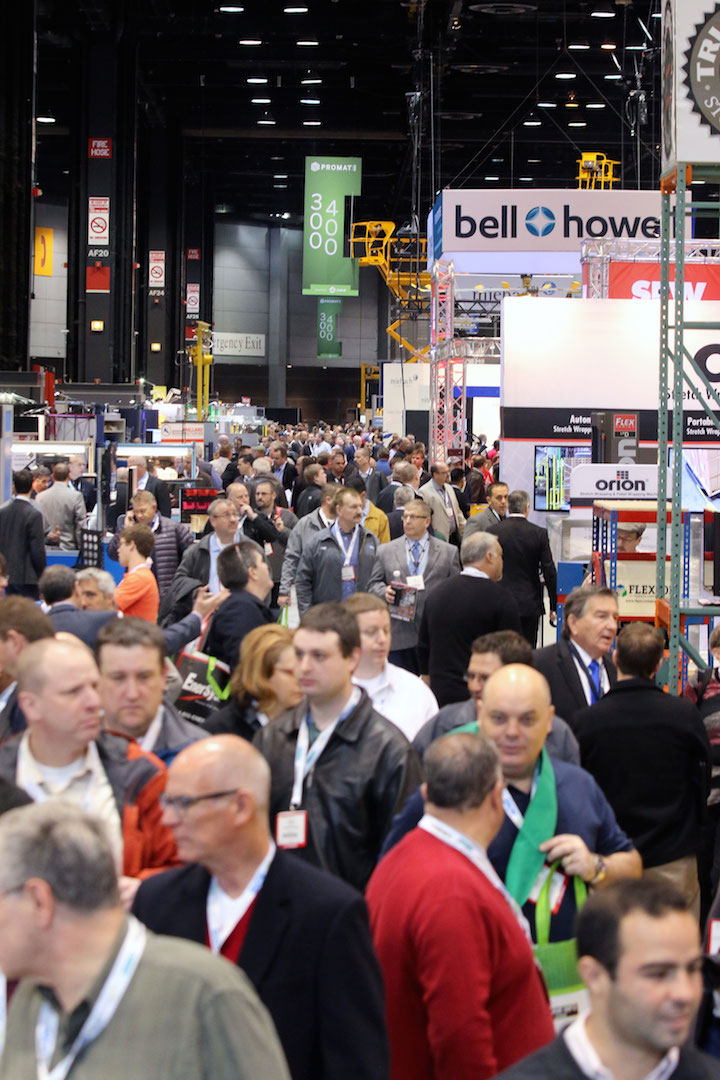 With just over seven weeks until the doors open at the Georgia World Congress Center in Atlanta for MHI's MODEX show, now is the time for exhibitors to start engaging with trade media. This blog advises how to do so effectively before, during and after the event, which takes place 4-7 April, 2016.
The first thing to do is identify the media that tick key boxes. They should be interested in content about MODEX and the product or service that exhibiting company provides. Moreover, their circulation or audience should include the demographic that makes up a target market of the exhibitor.
It is also important to match a place in the supply chain with readerships and audiences. Do you sell directly to end users or through a distributor network? Often there are different magazines within the same sector that address the respective audiences. Is your audience interested in engine components or complete lift trucks? One high-end vehicle or a fleet of runarounds?
Sometimes a publication may shift its focus to expand or change a universe of potential advertisers so it's important to do research.
Give the media an incentive to write about you. If there is a standout publication that covers your work, maybe offer them an exclusive angle or interview. Perhaps you could give a magazine a scoop on an announcement about a product or service in exchange for distributing copies from your exhibit.
Boilerplate drivel
As packaging journalist David Pittman says, "Too many exhibitors still hand over a USB and wave you on your merry way, or just dump a pile of press releases in the press office, which are often made up of uninteresting boilerplate drivel and regurgitated stories from the previous 12 months."
I love the "boilerplate drivel" comment—and he's right. Exhibitors too often feel they're managing media relations by giving journalists a bunch of papers boasting about the size of their headquarters, a dated product launch or, worse, a complete catalogue. No magazine or newspaper worth reading (and you want to be in the ones being read) will publish such bumpf.
A journalist might visit 50+ exhibits over the course of a trade show. Don't pin your chances of coverage on one of those memory sticks or brochures that get buried at the bottom of their bag. Do you really think they're going to get back to the office and sift through all those folders to find something newsworthy?
I wouldn't advise against placing materials in the press room—journalists will gravitate to the free lunch served there—but make it interesting and only as a supplement to more proactive media engagement. A marketing professional spending weeks producing a binder of photos and self-promotional boilerplate drivel is a wasted resource.
Be opinionated
Invite media representatives to visit your exhibit and make yourself available to answer questions. Avoid textbook responses to those questions and practice not referring to "cautious optimism" or pointing out the lack of a crystal ball. Actually give them an opinion.
A journalist won't want to write about the self-proclaimed leading supplier of conveyors but they will be interested in a coal-face viewpoint on the state of the market and the trends impacting it. This blog isn't about thought leadership but it is about advising people to be interesting enough to write about.
Pre-arranged one-to-one interviews, exhibit tours and press conferences co-located in trade show venue meeting rooms are all common ways of engaging the media in your trade show presence. I'm only passionate about the quality of activity offered to the press, not necessarily the way it's achieved. Every company, audience and relevant media are different. All can be effective if the right personnel are made available and they provide good, current information.
Keep in mind that journalists like exclusive content. I alluded to this earlier but it's worth reiterating in relation to press gatherings. If you've identified 10, 20, however many, major magazines or editorial vehicles, it won't serve as a quick fix to bundle them all into a one-hour slot of your trade show. You should be prepared for—and welcome—followup enquiries and requests for one-to-one interviews with senior personnel.
Tell John they're coming
Whatever the tactics you adopt at the show, cohesion is important between all departments. Prior to a material handling show I covered a while ago, I was hounded for weeks before the event about visiting a company's exhibit by their PR company. The crux of the correspondence was:
"Do you want an interview with CEO John Smith?"
"John is expecting you at 12pm on Day Two of the Big Show."
"Just a followup to check you're still ok to meet with John Smith next week."
Trouble was, nobody told John Smith. When I called on the exhibit I was, as David has experienced, waved on my way by John, who gave me a CD containing more of that boilerplate drivel and catalogue images. He told me there's nothing he can tell me that isn't already on the disc. Imagine a CEO who can't tell the media more than what is in the pages of their catalogue! They exist. You won't be surprised to hear that I never made a visit to that company again.
Media engagement continues after the show too. Send quality press releases about landmark orders, photos from the show floor, in addition to updated forecasts and opinions following experiences at the event.
Deal with followups and show gratitude to the media who showed an interest in your products and services. Write down who attended one-to-one interviews, exhibit tours and press conferences so you can note who to call upon when launching future outreach campaigns.
Make your MODEX even bigger with the help of the media.
Richard Howes, Vice President of Marketing & Content